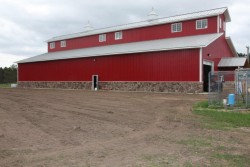 Click here for pictures of the Webber Building Dedication
The Buckley Old Engine Club broke ground on September 23 for a new building which will house the Snow Engine and a new demonstration area for primitive farm equipment. The 7200 square foot building, built by Hilbrand Construction of Grant, is a beautiful addition to the club showgrounds, and is nearly complete.
The club received the Snow Engine in 2008 from the Elder family in West Virginia. It was used for pumping natural gas from West Virginia to New York. At 1100 hp, it is one of the largest known Snow Engines left in the world.
The demonstration area will be a hands on exhibit, demonstrating primitive farm equipment. The area will feature corn grinding, flour grinding, fanning mill, seed sorter and several other primitive pieces. The mechanics of a threshing machine and reaper will be demonstrated as well.
The building was donated by The Wayne and Joan Webber Foundation of Clinton Township. Wayne Webber spent his early childhood in Thompsonville and is dedicating this building to the memory of his parents, Chris and Theresa Webber. The Wayne and Joan Webber Foundation is know in the area for its generosity to the children of Benzie County for its yearly distribution of new coats and boots to elementary students throughout the Benzie County Schools. The Wayne and Joan Webber Foundation was also instrumental in funding the Webber Heart Center at Munson Medical Center in Traverse City and building The Betsie Valley District Library in Thompsonville.
The Webber Building is open for the Buckley Old Engine Show and during Education Days.  It will be a great addition to Education Days in September, a yearly event hosting 4th graders from the surrounding schools, as they explore agriculture in Michigan History.