Buckley Old Engine Show Trivia Contest
The following is the next trivia question along with the prior question's answer, history, and the winner information!!
Question 16:  
What does the "70" represent in the Oliver model 70 tractor?
The seventh person to email the correct answer to [email protected] along with their name and place of residence will win a fun Buckley prize.
Previous Question:

What steam locomotive holds the world all-time speed record for a steam locomotive?
A) The Flying Scotsman
B) The Orient Express
C) The Mallard
D) Hogwarts Express
Answer C) The Mallard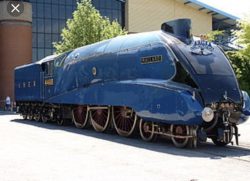 History:  The Mallard was used on the London and North Eastern Railway. The Mallard was numbered 4468. It is a Class A4 4-6-2 Pacific steam locomotive, built in 1938 by the Doncaster Works in London England. To this day The Mallard holds the world top speed record for a steam locomotive at 126 MPH. The Mallard is now on display at The National Railway Museum in York England.
Congratulations to  Katie Bancroft, Interlochen, MI. Katie won a Buckley 2019 calendar for being the second person to correctly answer the September 2018 Buckley trivia contest question.
Thanks!
***Trivia Contest Rules***
Each contest announcement will provide the contest details which will include:
tractor and engine history related question,
number of correct answer required to win (e.g. the 5th correct answer), and
contest instructions
To enter contestants must email their correct answer, along with their name and city and state of residence to [email protected].
Each contest will award a fun Buckley prize such as a Buckley t-shirt, coffee mug, or other Buckley related goodies. The prizes will be randomly selected and announced with the posting of the winner.
New trivia questions will be posted monthly. At the end of each contest, the winner's name, city, and state of residence will be posted on the Buckley website along with the correct answer. The winner will receive an email notification of their win. A person can only win once per year. Only one guess per person per contest. The contest is open to everyone.
Prize fulfillment will be handled by the Advertising Committee. Each winner will be provided with claiming instructions in the winner notification email.
By entering the trivia contest you agree to receive Buckley's e-newsletter and if you are a contest winner you also agree to have your name and city and state of residence posted on the website.