Buckley Old Engine Show Trivia Contest
Hello Buckley friends,
The following is the next trivia question along with the prior question's answer, history, and the winner information!!
We did not receive any correct answers to the March 2021 trivia contest.  Let's see how you do in May!!
Question 42:
Who built the first gas-electric hybrid automobile?
The 2nd person to email the correct answers to trivia@BuckleyOldEngineShow.orgalong with their name and place of residence will win a fun Buckley prize.
Question 41:
Gas engines were an important labor-saving machine on the farm from the 1900s through the 1930s. Hundreds of companies made engines with many designs & horsepower ratings. Companies came up with many clever trade names. One of the trade names below is not a real engine name. Which one doesn't belong?
Three Mile Team
Farmers Friend
Haf-a-Hors
Jack of all trades
Goes like Sixty
Tom Thumb
Kansas City Lightning
Power-All
KracKerJack
Answer: 8 – Power-All
History: Gas engines were an important labor-saving machine on the farm. They were used to power everything from corn sellers, buzz saws, cream separators, washing machines, Feed choppers, water pumps among many other uses.
1 – The Three Mule Team was manufactured by Associated Manufacturers Co of Waterloo, Iowa. It was a 3 hp engine and was introduced in 1914.
2 – The Badger "Farmer's Friend " gas engines were built in 3, 5, 6, and 8 horsepower sizes starting in 1909, made by the Christensen Engineering Company Milwaukee, Wisconsin.
3 – Variously known as the Little King, Little Pet, or the Haf-a-Hors engine, this little engine was introduced in 1920. It featured an inverted cylinder, built-in Spark coil, and foot pedal starter. Made by the Elgin Wheel & Engine Company of Elgin, Illinois. Despite the great number of Elgin engines produced, relatively few exist today.
4 – Made by one of the largest gas engine manufacturers, Fairbanks, Morse & Company of Beloit, Wisconsin. They made Jack of all Trade engines from 1895 to 1906
.
5 – Gilson Manufacturing Company of Port Washington, Wisconsin was enamored with "Sixty" in promoting their engine line. This 1 1/2 hp air-cooled model carried the slogan "Goes like Sixty – Sells like Sixty – Sells for Sixty. This style was advertised as early as 1906.
6 – Built from 1907 to 1916 by International Harvester, the Tom Thumb air-cooled engine was a handy farm helped.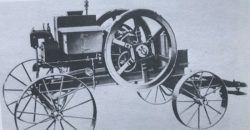 7 – The Kansas City Lightning line of gas engines was introduced in 1901 by the Kansas City Hay Press Company of Kansas City, Missouri.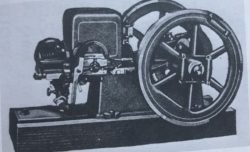 9 – Smyth-Despard Company of Utica, New York was a large supply house for mechanical and plumbing supplies. Their 1925 catalog listed the KracKerJack line of gas engines. The engines were actually manufactured by Nelson Brother Company of Saginaw, Michigan, and rebadged as KracKerJack engines.
Better luck in May!!
***Trivia Contest Rules***
Each contest announcement will provide the contest details which will include:
tractor and engine history related question,
number of correct answer required to win (e.g. the 5th correct answer), and
contest instructions
To enter contestants must email their correct answer, along with their name and city and state of residence to [email protected].
Each contest will award a fun Buckley prize such as a Buckley t-shirt, coffee mug, or other Buckley related goodies. The prizes will be randomly selected and announced with the posting of the winner.
New trivia questions will be posted monthly. At the end of each contest, the winner's name, city, and state of residence will be posted on the Buckley website along with the correct answer. The winner will receive an email notification of their win. A person can only win once per year. Only one guess per person per contest. The contest is open to everyone.
Prize fulfillment will be handled by the Advertising Committee. Each winner will be provided with claiming instructions in the winner notification email.
By entering the trivia contest you agree to receive Buckley's e-newsletter and if you are a contest winner you also agree to have your name and city and state of residence posted on the website.