Buckley Old Engine Show Trivia Contest
Hello Buckley friends,
The following is the next trivia question along with the prior question's answer, history, and the winner information!!
Question 24:  
What company introduced the first crew cab pickup truck? What year was it introduced? What was this pickup truck model called?
Please notice this is a 3-part question – you must provide correct answers to all 3 parts!
The third person to email the correct answer to [email protected] along with their name and place of residence will win a fun Buckley prize.
Previous Question:

Question 23:  
Question:  In 1929 Allis-Chalmers changed the paint color of its tractors from green to orange. What was the inspiration behind the color change?
A. ) A pumpkin patch
B. ) A workers orange lunch box
C. ) A blooming field of poppies
D. ) An orange tabby cat
Answer:  C. ) A blooming field of poppies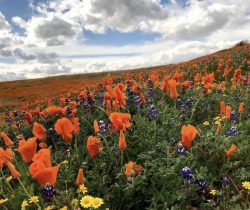 History: While on a business trip to California in 1929, Harry Meritt, chief engineer of the Allis-Chalmers tractor division was inspired by a bright orange field of poppies. This led to the introduction of the Persian Orange color scheme that Allis-Chalmers tractors became famous for.
From 1914 to 1928 Allis-Chalmers tractors were painted green.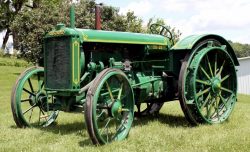 In 1929 Allis-Chalmers adopted it's famous Persian Orange color.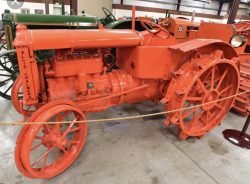 Congratulations to Bill Ehrlich Jr of Cass City, MI. Bill won a vehicle window decal for being the seventh person to correctly answer the June 2019 Buckley trivia contest question.
 Thanks!
To discontinue receiving correspondence from the Buckley Old Engine Show please send an email to [email protected] with "Discontinue Correspondence" in the subject line.
***Trivia Contest Rules***
Each contest announcement will provide the contest details which will include:
tractor and engine history related question,
number of correct answer required to win (e.g. the 5th correct answer), and
contest instructions
To enter contestants must email their correct answer, along with their name and city and state of residence to [email protected].
Each contest will award a fun Buckley prize such as a Buckley t-shirt, coffee mug, or other Buckley related goodies. The prizes will be randomly selected and announced with the posting of the winner.
New trivia questions will be posted monthly. At the end of each contest, the winner's name, city, and state of residence will be posted on the Buckley website along with the correct answer. The winner will receive an email notification of their win. A person can only win once per year. Only one guess per person per contest. The contest is open to everyone.
Prize fulfillment will be handled by the Advertising Committee. Each winner will be provided with claiming instructions in the winner notification email.
By entering the trivia contest you agree to receive Buckley's e-newsletter and if you are a contest winner you also agree to have your name and city and state of residence posted on the website.