Buckley Old Engine Show Trivia Contest
Hello Buckley friends,
The following is the next trivia question along with the prior question's answer, history, and the winner information!!
Question 28:  
Question:  Who invented the first successful gasoline traction engine AKA tractor?
The second person to email the correct answers to [email protected] along with their name and place of residence will win a fun Buckley prize
Previous Question:
Question 27: 
Question: What is this type of boiler called?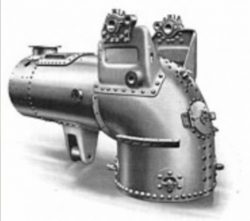 Answer: Pistol boiler
History: The name pistol boiler derives from the smooth curve of the outer firebox flowing into the boiler barrel & a resemblance to the stock of an early 19th-century pistol.
The English firm Rodey & Company was well-known builder of both large stationary steam engines and small steam tractors. Rodey developed its own version of this stay-less domed firebox known as the pistol boiler. Rodey's pistol boiler was small, with a barrel diameter of only two feet. The inner firebox was formed in one piece as a truncated cone with a domed top. Although it was a small boiler, it had a large grate area that permitted the burning of coke as fuel (coke is a gray, hard & porous fuel made by heating coal or oil). The front face of this cone was flattened inwards to form the firebox tubeplate. 54 1-1/2″ fire-tubes were used. This allowed a relatively high working pressure of 250 PSI to be used.
The firebox door was also of a novel design. As the backplate sloped so steeply, the door was top-hinged & opened inward rather than outward. Rodey used this pistol boiler design in their 6-ton steam wagon (steam truck) and in their Express steam tractors as well as in their tandem steam rollers.
Congratulations to Kathy George of St. Johns, Michigan.  Kathy won a 2020 Buckley calendar for being the eleventh person to correctly answer the October 2019 Buckley trivia contest question.
Thanks,
Buckley Old Engine Show
***Trivia Contest Rules***
Each contest announcement will provide the contest details which will include:
tractor and engine history related question,
number of correct answer required to win (e.g. the 5th correct answer), and
contest instructions
To enter contestants must email their correct answer, along with their name and city and state of residence to [email protected].
Each contest will award a fun Buckley prize such as a Buckley t-shirt, coffee mug, or other Buckley related goodies. The prizes will be randomly selected and announced with the posting of the winner.
New trivia questions will be posted monthly. At the end of each contest, the winner's name, city, and state of residence will be posted on the Buckley website along with the correct answer. The winner will receive an email notification of their win. A person can only win once per year. Only one guess per person per contest. The contest is open to everyone.
Prize fulfillment will be handled by the Advertising Committee. Each winner will be provided with claiming instructions in the winner notification email.
By entering the trivia contest you agree to receive Buckley's e-newsletter and if you are a contest winner you also agree to have your name and city and state of residence posted on the website.