Buckley Old Engine Show Trivia Contest
Hello Buckley friends,
The following is the next trivia question along with the prior question's answer, history, and the winner information!!
Question 29:  
Question: What auto manufacturer was the first to offer factory-installed air conditioning, and in what model year was it introduced?
The fourth person to email the correct answers to [email protected] along with their name and place of residence will win a fun Buckley prize.
Previous Question:
Question 28: 
Question: Who invented the first successful gasoline traction engine AKA tractor?
Answer: John Froelich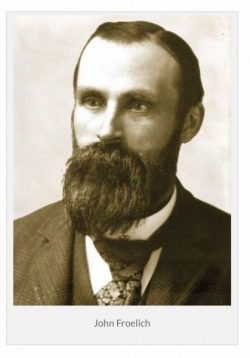 History: In 1892, John Froelich invented the first successful gasoline traction engine AKA tractor that had both forward & reverse gears.
With the help of his Blacksmith, Will Mann, they mounted a 16 horsepower one cylinder Van Duzen gas engine on a Robinson steam engine chassis. They designed their own gearbox. After completing the tractor, Froelich & Mann brought it to Langford, South Dakota where it was belted to a J.I. Case threshing machine. They threshed 72,000 bushels of grain in 52 days, a successful first run. On the heels of his success, he shipped his tractor to Waterloo, Iowa. There he showed his invention to a group of businessmen. The group was so impressed that they formed a company to manufacture the Froelich gas traction engine (tractor). They named the company The Waterloo Gasoline Traction Engine Company and named John as President. Unfortunately, the tractor did not sell well. Two were sold but were returned to the factory shortly thereafter. The company decided to manufacture stationary gasoline engines to provide income while tractor experiments continued, hence the famous Waterloo Boy gas engine was born. In 1895, the Waterloo Boy Gasoline Engine Company was incorporated, but Froelich, whose interest was in tractors and not stationary gas engines, chose to leave the company. The Waterloo Company continued to build stationary engines and within a few years became one of the largest engine builders in the United States. In 1914, Waterloo Gasoline Engine Company became one of the strongest competitors in the industry with the introduction of their new lightweight tractor, the Waterloo Boy Model R followed by the Model N. This made them a very successful tractor manufacturer. In 1918, John Deere purchased the Waterloo Gasoline Engine Company and its famous Waterloo Boy tractor.
Congratulations to Linda Peterson of Menominee, Michigan.  Linda won a 2020 Buckley calendar for being the second person to correctly answer the November 2019 Buckley trivia contest question.
Thanks,
Buckley Old Engine Show
Thanks,
Buckley Old Engine Show
***Trivia Contest Rules***
Each contest announcement will provide the contest details which will include:
tractor and engine history related question,
number of correct answer required to win (e.g. the 5th correct answer), and
contest instructions
To enter contestants must email their correct answer, along with their name and city and state of residence to [email protected].
Each contest will award a fun Buckley prize such as a Buckley t-shirt, coffee mug, or other Buckley related goodies. The prizes will be randomly selected and announced with the posting of the winner.
New trivia questions will be posted monthly. At the end of each contest, the winner's name, city, and state of residence will be posted on the Buckley website along with the correct answer. The winner will receive an email notification of their win. A person can only win once per year. Only one guess per person per contest. The contest is open to everyone.
Prize fulfillment will be handled by the Advertising Committee. Each winner will be provided with claiming instructions in the winner notification email.
By entering the trivia contest you agree to receive Buckley's e-newsletter and if you are a contest winner you also agree to have your name and city and state of residence posted on the website.