Buckley Old Engine Show Trivia Contest
Hello Buckley friends,
The following is the next trivia question along with the prior question's answer, history, and the winner information!!
Question 31:  
What tractor make & model had the longest production run?
The third person to email the correct answer to [email protected] along with their name and place of residence will win a fun Buckley prize.
Previous Question:
Question 30: 
Question: Three-part question:
1 – What farm equipment company was first to market with a PTO (power take-off) on a tractor?
2 – What make and model production tractor was it introduced on?
3 – What year was it introduced?
Answer:
1 – International-Harvester
2 – The International-Harvester model 8-16 tractor
3 – 1918
History: Experimental power take-offs were tried as early as 1878, and various homemade versions arose over the subsequent decades. International-Harvester Company (IHC) was first to market with a PTO on a production tractor, with its model 8-16 introduced in 1918. Edward A. Johnson, an IHC engineer had been impressed by a homemade PTO that he saw in France about a decade before, improvised by a French farmer and mechanic surnamed Gougis. Johnson & his IHC colleagues incorporated the new idea into the 8-16 tractor and designed a family of implements to take advantage of the new feature. IHC was not alone in the market for long, as within a year PTOs were appearing on other production tractors from other companies. In 1920 IHC offered the PTO option on their new 15-30 tractor. The 15-30 was the first PTO equipped tractor to be submitted for a Nebraska tractor test.
What is a PTO? The PTO (power-take-off) shaft is an efficient means of transferring mechanical power between a farm tractor and implements.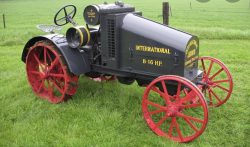 International-Harvester 8-16 tractor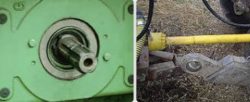 Tractor PTO (power take-off)
Congratulations to Chris Duggins of Eaton, Ohio.  Chris won a 2020 Buckley calendar for being the 10th person to correctly answer the January 2020 Buckley trivia contest question.
Thanks,
Buckley Old Engine Show
***Trivia Contest Rules***
Each contest announcement will provide the contest details which will include:
tractor and engine history related question,
number of correct answer required to win (e.g. the 5th correct answer), and
contest instructions
To enter contestants must email their correct answer, along with their name and city and state of residence to [email protected].
Each contest will award a fun Buckley prize such as a Buckley t-shirt, coffee mug, or other Buckley related goodies. The prizes will be randomly selected and announced with the posting of the winner.
New trivia questions will be posted monthly. At the end of each contest, the winner's name, city, and state of residence will be posted on the Buckley website along with the correct answer. The winner will receive an email notification of their win. A person can only win once per year. Only one guess per person per contest. The contest is open to everyone.
Prize fulfillment will be handled by the Advertising Committee. Each winner will be provided with claiming instructions in the winner notification email.
By entering the trivia contest you agree to receive Buckley's e-newsletter and if you are a contest winner you also agree to have your name and city and state of residence posted on the website.