Buckley Old Engine Show Trivia Contest
The following is the next trivia question along with the prior question's answer, history, and the winner information!!
Question 19:  
In 1937, John Deere introduced its largest row-crop tractor to date, the John Deere model G. In 1942, John Deere changed the name of the Model G to the model GM and then in 1947 changed it back to the model G. Why did John Deere change the tractors model designation and what does the GM designation stand for?
The sixth person to email the correct answer to [email protected] along with their name and place of residence will win a fun Buckley prize.
Previous Question:

Question 18:  
Question: What was the largest steam locomotive ever made?
 
Answer:  The Big Boy #4000 class 4-8-8-4 articulated steam locomotive.
 
History:  The American Locomotive Company built a fleet of twenty-five #4000 class 4-8-8-4 articulated steam locomotives from 1941 to 1944, known as the Big Boys. Initially built to haul freight for the Union Pacific Railroad over the Wasatch Mountains between Ogden, Utah & Green River, Wyoming. In the late 1940s, they were reassigned to Cheyenne, Wyoming where they hauled freight over Sherman Hill to Laramie Wyoming. They were the only locomotive to use a 4-8-8-4 wheel arrangement consisting of a four-wheel leading truck for stability entering curves. Two sets of 8 driving wheels & four-wheel trailing truck to support the large firebox. According to a Union Pacific executive, the #4000 class 4-8-8-4 series steam locomotive was to be named the "Wasatch". During construction, a worker scrawled "Big Boy" in chalk on the front of one of the locomotives. With that, the legendary name was born & stuck. The last run of a Big Boy was July 21st, 1959. There are 8 surviving Big Boys in museums with two of them in operable condition, #4014 & #4012.
How big was the Big Boy?
Length: 85 feet 3.4 inches
Width: 11 feet
Height: 16 feet 2 1/2 inches
Total weight: 1,250,000 lbs.
Fuel capacity: 28 short tons
Water capacity: 25,000 gallons
Boiler pressure 300 psi
Cylinders: 4
Cylinder size: 23.75" x 32"
Max speed: 80 mph
Cost to build in 1941: $265,000.00
In today's money that would be: $4,558,811.22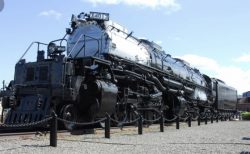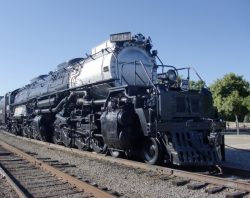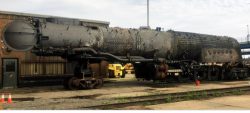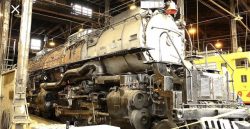 Congratulations to John Smith of Lowell, MI.  John won a Buckley 2019 calendar for being the tenth person to correctly answer the December 2018 Buckley trivia contest question.
Thanks!
***Trivia Contest Rules***
Each contest announcement will provide the contest details which will include:
tractor and engine history related question,
number of correct answer required to win (e.g. the 5th correct answer), and
contest instructions
To enter contestants must email their correct answer, along with their name and city and state of residence to [email protected].
Each contest will award a fun Buckley prize such as a Buckley t-shirt, coffee mug, or other Buckley related goodies. The prizes will be randomly selected and announced with the posting of the winner.
New trivia questions will be posted monthly. At the end of each contest, the winner's name, city, and state of residence will be posted on the Buckley website along with the correct answer. The winner will receive an email notification of their win. A person can only win once per year. Only one guess per person per contest. The contest is open to everyone.
Prize fulfillment will be handled by the Advertising Committee. Each winner will be provided with claiming instructions in the winner notification email.
By entering the trivia contest you agree to receive Buckley's e-newsletter and if you are a contest winner you also agree to have your name and city and state of residence posted on the website.